News
Denise Rossiter, CEO of Essex Chambers of Commerce, meets with Secretary of State for Skills Gillian Keegan at No. 10 Downing Street
October 27, 2023
Denise Rossiter, CEO of Essex Chambers of Commerce, had the privilege of attending a private reception with the Secretary of State for Skills, Gillian Keegan, at No. 10 Downing Street. They discussed the Local Skills Improvement Plan (LSIP) for Essex, whose production has been led by the Essex Chambers, working in collaboration with partners from across business and education and under contract to the Department of Education. Denise Rossiter was joined by Denise Brown, CEO & Principal of South Essex College, and Anna Firth MP for Southend West.

The meeting was a significant milestone for Essex Chambers of Commerce and highlighted the importance of nurturing a strong partnership between government bodies and local educational institutions. The aim of the LSIP is to tackle the long-standing challenge of making the provision of skills ever more responsive to the changing needs of both businesses and individuals – by enhancing the skills and employability of the workforce in Essex region implementing the LSIP can have a positive impact on the Essex economy.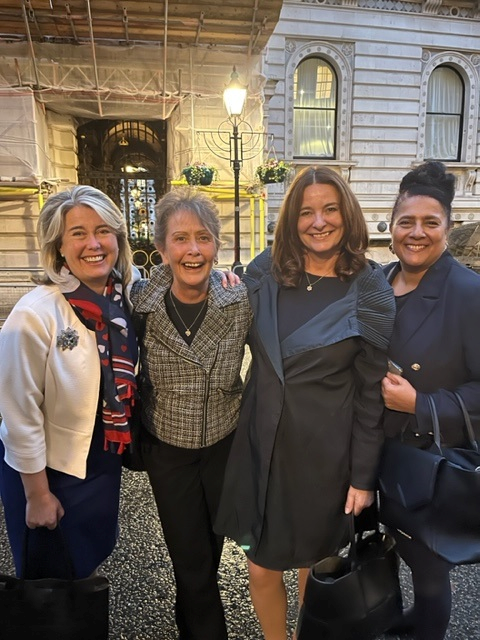 Denise Rossiter has consistently advocated for the development of a skilled and adaptable workforce in Essex and expressed her enthusiasm for this collaborative effort. She stated, "I am truly honoured to have had the opportunity to engage with Secretary of State Gillian Keegan on this critical initiative. The Local Skills Improvement Plan is key to transforming our local economy by ensuring that the workforce is equipped with the necessary skills and knowledge to meet the evolving demands of businesses in our region."

During the reception, Denise Brown highlighted the role of educational institutions in driving the skills development agenda. She emphasized the importance of aligning education and training programs with the needs of local businesses. "South Essex College is committed to working closely with businesses to design programs that equip our students with the practical skills that employers seek. This meeting signifies a promising step towards a more connected and responsive education and training system."

Anna Firth MP for Southend West expressed her support for the collaborative efforts to improve skills in the region. She added, "It is heartening to see local leaders, businesses, and government coming together to tackle the pressing issue of skills development. By working in unison, we can strengthen our local workforce and drive economic growth."

Essex Chambers of Commerce and its partners are committed to supporting and implementing the Local Skills Improvement Plan. The collaborative effort between government, education, and businesses is a significant step forward in shaping a brighter future for the Essex region.