News
Essex Chambers' members briefed on Lower Thames Crossing proposals
November 6, 2017
On Friday, Essex Chambers of Commerce joined forces with the Port of Tilbury to welcome Tim Jones of Highways England to speak to key Essex businesses about the proposals for a new Lower Thames Crossing.
As the Project Director for the Lower Thames Crossing, Tim gave businesses a comprehensive overview of the proposals to date and the sheer scale of the project, which will be one of the largest in the UK when construction gets under way.
During his presentation. Tim referred to the need to leave a positive legacy behind when designing the tunnel portals and any large scale infrastructure like viaducts. The crossing is scheduled to open in 2027 and will cost £4.4 billion. The project is expected to generate up to 6,000 jobs during the construction period and will provide an £8 billion economic stimulus to the economies of south Essex and north Kent.
Speaking about the presentation Denise Rossiter, Chief Executive of Essex Chambers of Commerce, said "The need to improve our road networks in Essex is essential if we are to keep a successful economy in the county and a project like the Lower Thames Crossing will be vital for the future success of Essex's businesses"
"The Chambers of Commerce fully support this scheme and we are grateful to Tim and Highways England for providing our members with an up to date briefing on how the scheme is developing and what benefits users of the road network can expect to see when it is completed."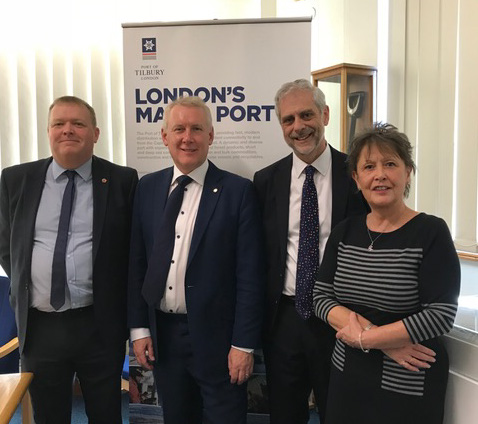 Image (Left to Right)
Peter Ward – Commercial Director, Port of Tilbury; Tim Jones – Project Director, Lower Thames Crossing, Highways England; John Speakman - Senior Asset Manager, Port of Tilbury; Denise Rossiter – Chief Executive, Essex Chambers of Commerce