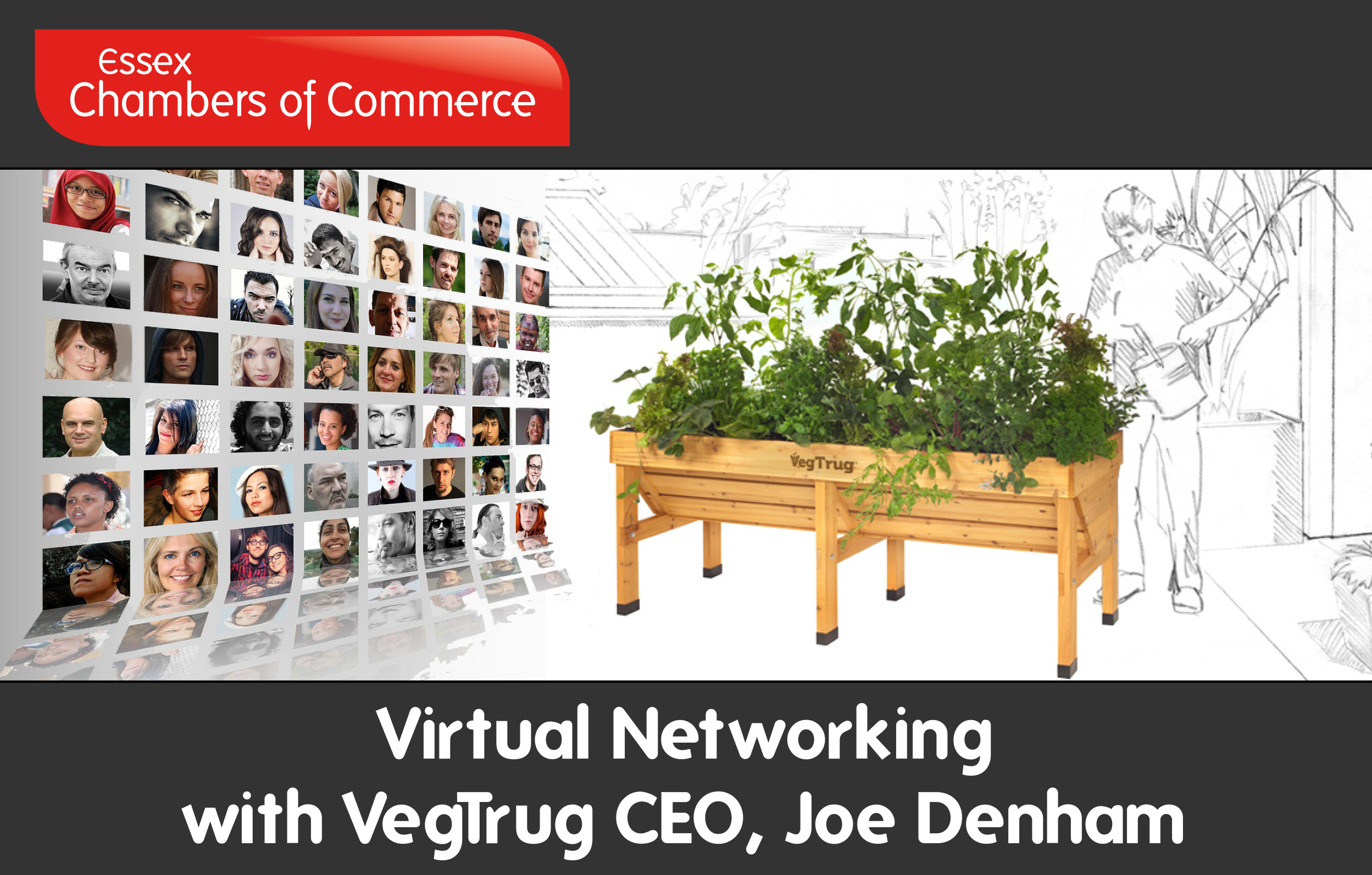 We are pleased to bring to you our next Virtual Networking event featuring VegTrug Ltd.

We will be joined by the CEO of VegTrug Ltd, Joe Denham. He will speak about how the company has overcome and thrived during this period of uncertainty.

VegTrug Ltd offers a wide range of revolutionary planters, plus seed packs and accessories that encourages budding gardeners to grow your own vegetables and herbs regardless of garden size or experience.

Join us as Joe discusses the challenges he faced coping with overseas production facilities during the Coronavirus and what they have learned from it, together with what needs to change going forward. In addition, Joe will explain the positive effect on your wellbeing gardening can have and the benefits of sustainability.

VegTrug Ltd is a wonderful example of how an Essex based company has flourished in times of adversity. Their story reminds us all to be brave, be proactive and to seek advice.

Date: Friday 24th July 2020 – 10.00am to 11.30am
Cost to attend: Members £10.00 + VAT and Non-Members £20.00 + VAT

The meeting will take place safely and securely via Zoom. Please note that you will receive the details to join the meeting once you have completed the booking form below.

Agenda
10.00am – Sign in to Zoom Meeting
10.05am – Welcome introduction from Denise Rossiter CEO, Essex Chambers of Commerce
10.10am – Presentation from Joe Denham, CEO of VegTrug Ltd
10.30am – Q&A
10.35am – Networking
11.30am – Meeting finishes

During this meeting you will have the opportunity to break off into smaller groups and network with your fellow attendees. This is the perfect opportunity to catch up and make new contacts in a safe, sociable and secure way during this time of social distancing.
#ForEssexByEssex - Let's grow together.


Joe Denham is the CEO of VegTrug Limited, VegTrug USA Inc and VegTrug Europe GmbH. The business was started by him and a business partner in 2009 and supplies the VegTrug product range to retailers exporting to 28 countries currently.

Joe is the Chairman of the Gardenex Association which represents and assists UK businesses in the gardening and pet sector to export British products around the world. He also sits on the Export Committee of BHETA (British Home Enhancement Trade Association) which similarly advises UK companies in the DIY sector on export. Both positions are voluntary.

Previously Joe was Managing Director of CBT Systems, a UAE based company specialising in the delivery of online learning which was sold in the late 90's under a Nasdaq merger to a major US operation. Joe continued to run the business after it was sold until handover to the new owners. He returned to the UK in 1999.

In between Joe has owned and operated a farm in Brittany, France producing specialist horse feed into continental Europe and had a four year spell on UK shopping TV again supplying products from his own business for the channel.

As you can see it has been a varied career with Joe describing himself as a serial entrepreneur who likes to challenge himself! He is married to Lesley with 4 sons aged from 32 down to 12!