Events
Export Licence Controls
Essex Chambers of Commerce, 34a Star Lane, Great Wakering, Essex. SS3 0FF
Tuesday 22nd November 2022
9:30am - 4:30pm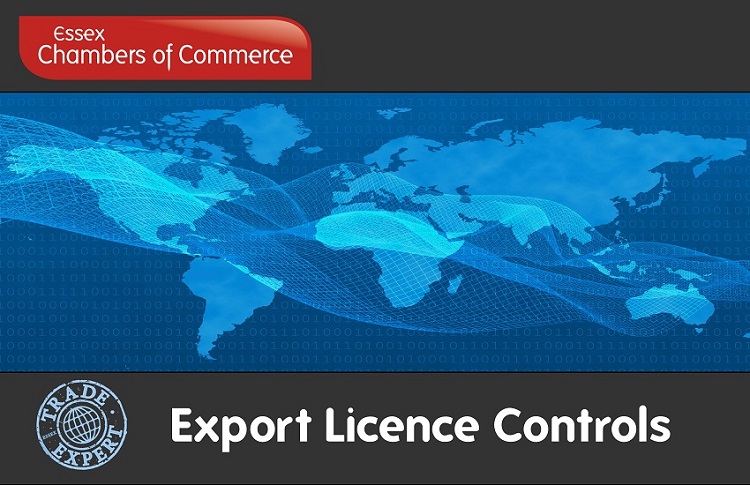 This premium training course will deliver a comprehensive insight into Export Licence Controls, covering the goods and services that need them.
You will receive an in-depth exploration into
the world of Export Licence Controls explaining the role of Export Control Joint Unit (ECJU) and their on-line export control portal. Whether you are exporting goods designed for Military use or Dual-use items, or if you are not sure, we will explain everything you need to know.
Export Licence rules do not only cover the physical movement of goods, but also cover certain software and technology, and even technical assistance. Controlled technology is a tricky topic; let us help you to understand the difference between tangible (physical) and intangible (non-physical).

Export Licence Compliance is essential to all exporters. Companies large and small must equally comply with our Licensing rules. Non-compliance is costly; minimum penalty is £1,000 fine, maximum penalty is 10 years imprisonment. Topics covered include:
SPIRE & it's replacement LITE in 2022 – how to navigate the on-line portal

Export Control Joint Unit – what is the role of ECJU

Military – what are strategic goods

Dual Use – which control lists to use

Listed Goods – how to find your goods on the control lists

Catch all controls – how to make an End User Advisory Service application

Different types of Licences – what are the differences between OGELs, SIELs, OIELs

Licence Application – how to apply for a licence

End User/Stockist/Consignee Undertakings – when are these required and why

Consignee / End User / Ultimate End User – which party performs which role

Exports – step by step how to export controlled goods

Technology – what is controlled technology and how to manage tangible/intangible

Shipping Log – what is the essential information to capture and record

Intangible Shipping Log – what additional information is essential for non-physical means

Record Keeping Procedure – what are the steps required to demonstrate compliance

Compliance Visits – how to prepare and complete a pre-visit questionnaire
Date:

Tuesday 22nd November 2022 9.30am to 4.30pm
Venue:
Essex Chambers of Commerce, 34a Star Lane, Great Wakering, Essex. SS3 0FF
Cost to attend: Members £340.00 + VAT and Non-Members £390.00 + VAT
Attendees are encouraged to bring along examples of paperwork to discuss on the day. Specific questions or issues can also be submitted prior to the course and answers or resolutions will also be discussed.

REMEMBER

compliance is not a choice, it's a necessity
Join us to ensure you are prepared for the challenges ahead.

*
All of our physical training courses will be delivered following the Government COVID-19 guidance and will have a
maximum of 8 attendees plus trainers in a large, ventilated training room.
The safety of our trainers and attendees is of the utmost importance to us and training will be converted online if necessary.
If you would like to attend this event, please complete the online booking form below:



All event bookings need to be made and paid online only unless we have agreed alternative arrangements with you in advance of the event. If you have any queries, please contact our Accounts Manager Rachael Hogg on 01206 363721.