Events
Annual Whitebait Festival 2018 - NEW VENUE!
Maritime Room, Cliffs Pavilion, Station Road, Southend-on-Sea, Essex SS0 7RA
Wednesday 19th September 2018
12:00pm - 3:00pm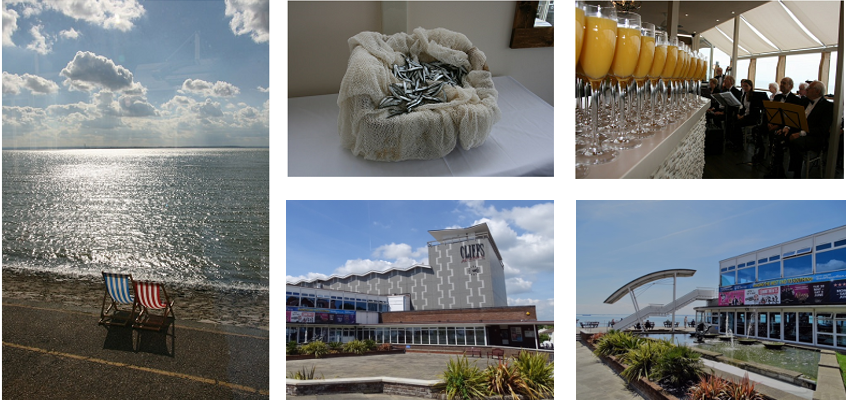 Essex Chambers of Commerce once again invite you to join us at our annual
Whitebait Festival, which is our traditional and historic annual celebration, giving thanks for 'the fruits of the sea'
at the
Maritime Room, Cliffs Pavilion, Station Road, Southend-on-Sea, Essex SS0 7RA
This year, we are delighted to be joined by the Mayor and Mayoress of Southend and other local dignitaries. Following the 'Blessing of the Catch' Service, a three course lunch will be served, including of course Whitebait as one of the Starter choices! The delightful Afternoon Orchestra will be there to welcome you, and also provide the musical accompaniment to the Service.

If you want to experience something slightly different, what could be better?! We offer a discount for Companies that book a table of 10, so why not treat your team! Don't delay, book today!

We look forward to seeing you there!
Please note - there is a pay and display car park in very close proximity.
Date:

Wedne

sday 19th September 2018 12.00pm to 3.00pm (Lunch is provided)




Venue:

Maritime Room, Cliffs Pavilion, Station Road, Southend-on-Sea, Essex SS0 7RA


Cost to attend: £25.00 + VAT Members, £39.17 + VAT Non-Members, £225.00 + VAT Members (Table of 10) and £352.50 + VAT Non-Members (Table of 10)



Agenda:
12.00 Registration and Reception Drink
12:15 Service - The Blessing of the Catch
13:00 Lunch
15:00 Event CLOSE
Your Data
Details of attendees to any Essex Chambers events/training are stored by Essex Chambers of Commerce. We process your information under our legitimate interests in supporting Essex businesses. Your information will be used to administer your attendance at the event, process any payments due where applicable and to send you details of similar events and information offered by the Chamber of Commerce. We do not share your data with any third parties and your information is stored in the United Kingdom

You have the right to have your information corrected, restricted in use and to object to our use of your data however please note if you object to use of your data for your attendance at the event we may not be able to accommodate you at our event. You can find details of how long we keep personal data online as well as more information on how we handle your details at www.essexchambers.co.uk/privacy_policy

If you do not wish to receive further promotional communications from the Chambers please email communications@essexchambers.co.uk or unsubscribe below.

Please note – if you do not receive confirmation 48 hours after booking your place, please contact the Events Team on 01268 503361.

ESSEX CHAMBERS OF COMMERCE RESERVE THE RIGHT TO REFUSE ADMISSION TO ALL OR PART OF ANY EVENT.

All event bookings need to be made and paid online only unless we have agreed alternative arrangements with you in advance of the event. If you have any queries, please contact our Accounts Manager Rachael Hogg on 01206 363721.
If you would like to attend this event, please complete the online booking form below:
If you would like to attend this event, please complete the online booking form below:


Tweet about your attendance